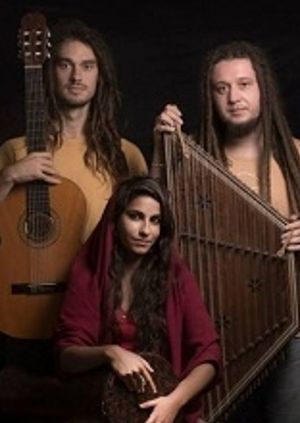 Light in Babylon
23rd Dec 2022 21:00 - 23:00
Add to Calendar
Event Details
Light in Babylon makes original Oriental Mediterranean music. Based in Istanbul, the band combines several ethnic groups and cultures.The Iranian - Israeli charismatic singer and songwriter, Michal Elia Kamal accompanied by Turkish and French
musicians, and together they are the new fresh voice coming out now from Istanbul.
Light in Babylon offers a concert which is not only music, but a musical journey with the audience through the middle east, Istanbul and the Balkans. With oriental instruments and a powerful voice of the main Singer, the band tells a story, and sends a message of humanity, multiculturalism and women empowerment.
In these days, where too many women around the world live in a system of gender apartheid, like in Iran for example where women are not allowed to sing in public, the singer Michal Elia, tells the story of her family who fled from Iran after the revolution and her dream to sing in Iran one day. The video clip of the song " The women of Teheran" by Light in Babylon written by Michal Elia reached millions of views around the world.